what to write on a card
Sandy Hinchliffe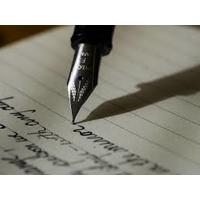 I thought I would share some ideas of messages you write on your next bouquet of flowers or gift delivery.
Like I have said many times, a personal gift like a delivery of flowers always sends a message with or without a card attached. But to really bring home your heart felt intention of sending flowers, you need to provide your florist something to go on the card.

Of course what to write is entirely dependent on the situation. Romantic messages vary from cryptic secret admirers to overt declarations of love. And so it is with other occasions, the words you use are determined by relationship that you have with the recipient.

To help out, I thought I would share some ideas of messages you write on your next bouquet of flowers or gift delivery.

Try a few of these:

Romantic
- I love you now and I always will.
- Just a little reminder to say that I miss you and I love you.

Anniversary
- Happy anniversary to the love of my life, even as the years roll by you are still the only one for me, the only one ever to be.
- All my Love.

Sympathy
- Very sorry to hear of your loss. Sending love to you all.
- My heart is broken for you my friend, please know that I here to support you.

Birthday
- Happy birthday, may the year ahead be your best yet.
- Happy birthday to my Wife, my Love, my Soul mate.
- Wishing you a very happy birthday. Lots of love on your special day.

Thank you
- Thank you again for all your support, I am truly blessed to have you as a friend.
- Thank you for being amazing!
- Thank you for always supporting me, you are the best friend I could have ever wished for.
- Even though I'm miles away I just wanted you to know I appreciate you and love you so much. Thanks for everything you do.

Get Well
- Thinking about you my friend, get well soon.
- All the best for a speedy recovery
- Get well soon. Thinking of you, hope these bring a smile to your face.

Sorry
- I'm sorry for being so horrible to you, please forgive me.

Baby
- Congratulations on the birth of __________ and becoming a family of three!
- Yay, you are growing a little human inside of you! Congratulations to you both.

Just Because
- Just because I love you, just because I care, just because you make me smile, just because I wish I was there!

Thinking about you
- Beautiful blooms to brighten your day, to let you know I've been thinking about you and to say, I appreciate your friendship in every way.
Thinking about you is a florist in Joondalup, helping people to communicate love and respect. For our full range click here, or call Sandy on 0410425760
---
---