3 simple tips for blokes!
Sandy Hinchliffe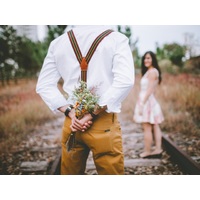 So guys here are 3 simple tips about building romance, from a female florist perspective.
Some gentlemen have a good understanding of the art of romance, while other blokes are, shall we say less "in tune" with strategies to win a ladies heart. So I thought I should provide some tips for our gentlemen friends. (Feel free to share)
So guys here are 3 simple tips about building romance, from a female florist perspective.
1. Romance takes time. Depending on your historical flower giving practices, the first time you give a lady flowers it might be met with some scepticism. "What have you done wrong?" or "What do you want?" Now do not misread such responses, this is not the time for a confession, nor have you gotten lucky on your first attempt, romance is a journey not a one off action. I suggest you make a plan to build romance into your relationship.
2. Romance is surprising. If your flower giving practices are restricted to birthdays and anniversaries, you are missing out on an extremely important element of romance, the surprise factor. Romantic gestures are not telegraphed in advance, they are unexpected and often appear to be spontaneous, but don't be fooled, great surprises require some planning.
3. Romance is extravagant. By extravagant I mean beyond expectation. Recently my husband gave me 32 red roses to mark 32 years from when we started dating. Now it was not necessary to buy 32 roses, even just a simple bouquet would be more than enough for an obscure anniversary, but no, he went down the extravagant road and it was certainly beyond my expectations and it was definitely romantic.
So there you have it guys, be extravagant, plan a surprise and do it more than once or twice, and before long they will change your name to Casanova!
Thinking about you is florist in Joondalup helping blokes become romantic gentlemen.
---
---